About Us: Meet The Owners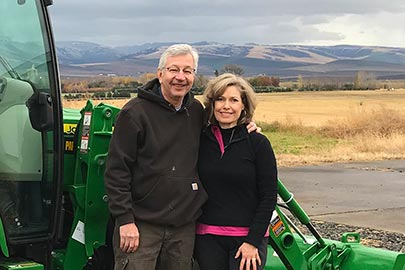 Owners, Clough & Kay Shelton
Clough and Kay Shelton currently live in Salt Lake City. They were introduced to Walla Walla when their son, Bill, entered the freshman class at Whitman College. They quickly became enamored with the community and surrounding area. Kay and Clough lived in the San Francisco Bay area in the early 80's, and Walla Walla reminds them of St. Helena, California circa 1982.
Bill, on the other hand, took a leave of absence from Whitman after completing his freshman year and transferred to the University of Utah. Daughter Jordan also lives in Salt Lake City with her husband Kelley.
Kay and Clough will eventually retire to Walla Walla and build a home on the ridgeline at the vineyard. Until then, they plan to visit Walla Walla as often as possible, to participate in the farming and to enjoy Walla Walla.